The author shares her insight from 40 years of meditation
and her poetic life to bring you:
- more joy and love
- inspiration and hope
- encouragement and
- appreciation of life
Excerpts:
No one can own
beauty or sacredness.
We can only live it and
appreciate it. (p.18)
Patterns
Habits create patterns,
Patterns create a whole,
Which can become your hole,
When unconsciously engaging in
Habits creating unwanted patterns,
Creating wholes, holes, and more patterns. (p.1)


Freedom can come in many forms,
and many forms can disguise
themselves as freedom. (p.3)


Compassion
manifests
dignity. (p.29)


Love is constant,
it's the relationships
that differ. (p. 37)


Perhaps a person's physical space will always at some point seem too small because the mind is so immensely expansive. (p.26)
Please click on blue $25 to order on SECURE and ENCRYPTED site
Use your charge card OR paypal acct. You do not need a paypal acct to use your charge card. Click here to order now
www.paypal.com/ca/cgi-bin/webscr?cmd=_f…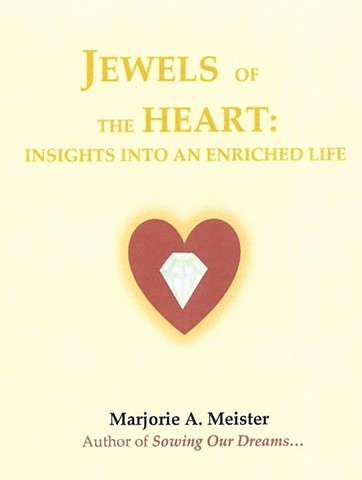 Jewels of the Heart: Insights Into an Enriched Life.
hand-bound book on parchment paper
4.5"w x 5.5"h x 3/8"d
2013